Shobeir
June 4, 2010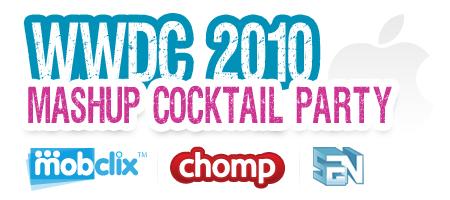 ATTENTION: Developers and WWDC Enthusiasts!
Along with our friends at Chomp and SGN, Mobclix is proud to be hosting one of the biggest parties at WWDC – the WWDC 2010 MashUp Cocktail Party.
Join us Tuesday night at Roe, where we'll be featuring the crème de la crème of mobile app developers, 20 of the hottest iPhone/iPad app demos, and tons of awesome opportunities to network and maximize your WWDC experience!

In addition to personalized cocktails, a rocking venue and the Bay's finest DJ Mash Up, you'll be able to vote for your favorite apps and help pick a "People's Choice" winner by the end of the night.
So, if you haven't done so already, register today because space is limited and the guest list is filling up fast! For any inquiries about the event or about Mobclix – feel free to contact Shobeir Shobeiri (shobeir@mobclix.com).
**Registering for the event with automatically add you to our newsletter. If you wish to be removed, email Laura@Mobclix.com
Featured Apps: 24 Second, Amp Music Player, Chalkboard, Coulorsphere, Dreamlist, EContact Pro, Foot Feet, GoMiso, Haveasec, iGift4U, iSpy, Line Snob, Lumosity, MagicWindow, Moe's Notes, Moron Test, reMovern2, Show Force, TagDis, Whiteboard…
UPDATE: The results are in and the app who has been crowned "People's Choice" is…drum roll please…AMP MUSIC!! Congratulations, you've won a $500 Apple GIft Card courtesy of Mobclix, Chomp & SGN. Thanks to all of the apps that came out to participate!
Photos are up! Don't forget to check them out.